With over 600 attendees – 350 of them students and teachers from all over the country – the Innovation Day 2022 was all about what the future of education can look like. We hosted it in the newly built Alpha Centauri high-tech campus in Zagreb at the beginning of July. Big dreams and memorable experiences were at the core of this huge STEM festival which brought together children, teens, educators, and innovators.  
Powered by STEMI, Infobip and A1 Croatia, it was a different type of classroom, filled with entrepreneurs, industry experts, universities, and fast-growing technology companies. It celebrated hands-on, project-based models of learning and teaching STEM. It offered children and teens a glimpse into the future by showing what the country's most prominent innovators and researchers are developing today. CRTA, Faculty of Electrical Engineering and Computer Science, AVL Croatia, Equinox Vision, Orqa, LAQO, Electrocoin, Gammachef, Mindsmiths, Miret, Smart Lumies and others joined in as exhibitors.
Robots dancing, and walking up stairs
It was the day when dog-like robots were seen dancing and walking between floors. Giant virtual creatures mixed with real people and objects – you only had to look around through the app on your phone. There was a smart cooking range, a cryptocurrency service, all kinds of drones, eco-shoes, children's games that employ brains, eyes, ears, hands, and feet, all at the same time. It was the day that burst with energy, paving the way for different learning experiences.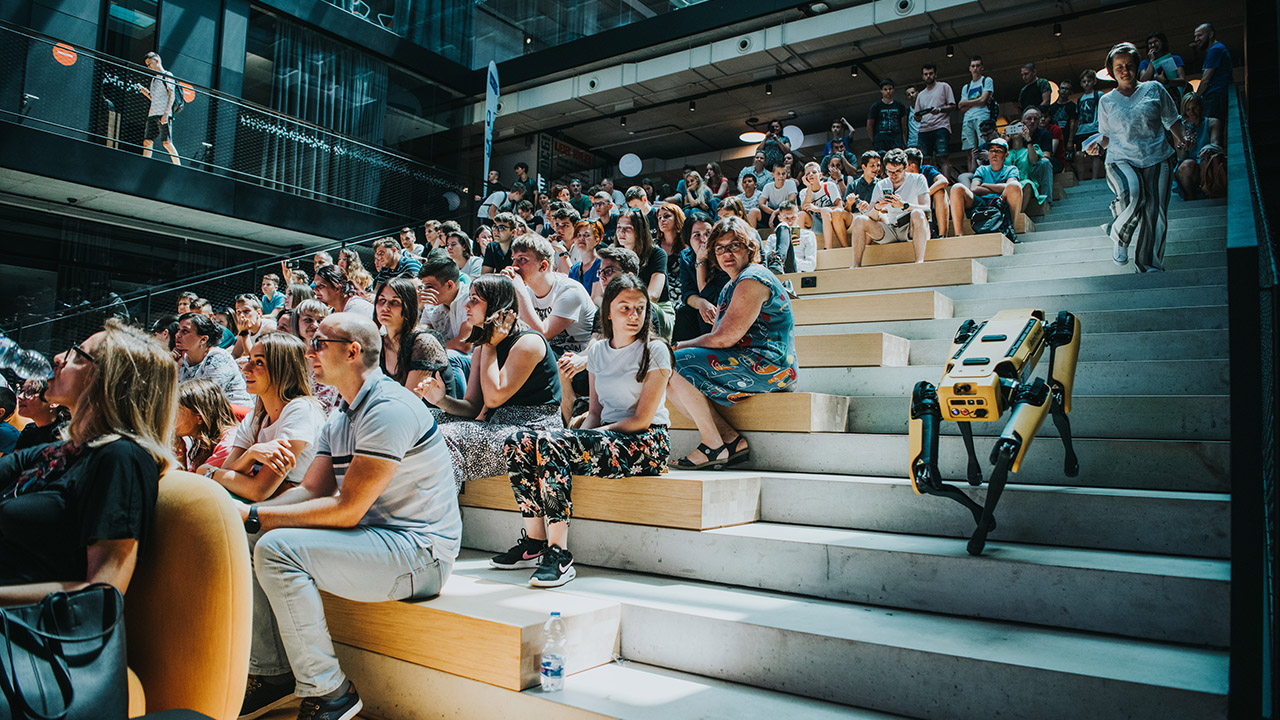 With the latest tech wonders on display, the festival opened the door into the future, showing how far collaboration and creation can go, and why the Think Big mindset is so important to nourish early on.
Innovation Day 2022 was also the grand finale of the 6-month-long Schools of the Future project, which invited school teams from across Croatia to build chatbots using the STEMI platform. More than 2000 children and teens from 70 towns and cities participated. Their work was structured just like real projects in tech companies; it aimed to solve specific problems spotted in the surroundings. 
We made sure to have a wonderful stage and a spotlight on the achievement when awarding the best of their work. Chatbots projects impressed us with their bold missions; execution was spot on, too. 
Chatbots tackling nature, health, NGOs and more
Little Dragon by the team from Electrical Engineering High School and Salesian Grammar School of Rijeka improves communication and coordination at a busy NGO with 8 employees and 200 volunteers. Grupići from Glina High School used STEMI to build a chatbot that will educate you on recycling, entertain you with quizzes and take you on a journey of forming better habits.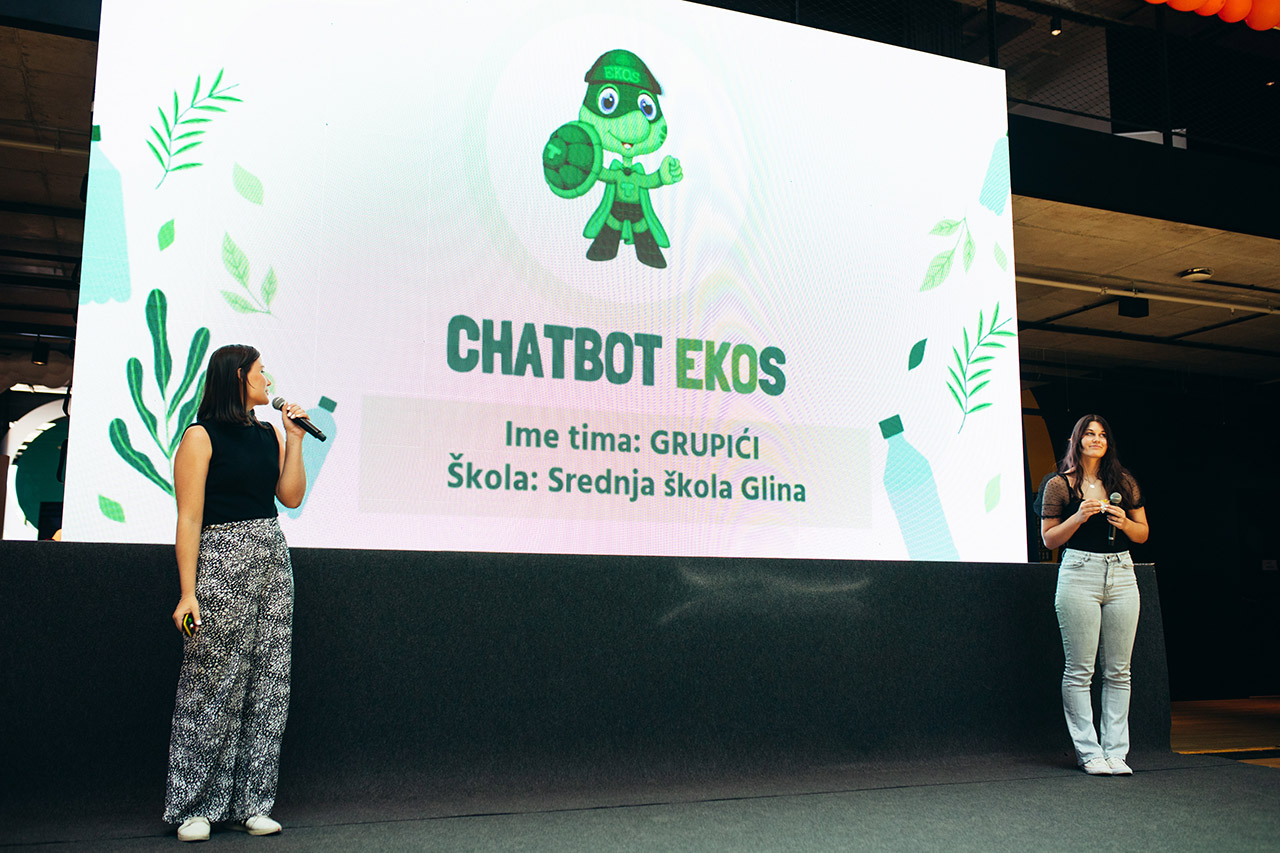 Bokar team from the Hospitality and Tourism High School of Dubrovnik employed AI to help the deaf. Their OrlandoBot makes interactions easier for 209 people with hearing impairment in their county. DoDo chatbot, a joint project by Bjelovar Grammar School and Ilok High School, eases communication at a charity association and contributes to its efficiency. PP Papuk team from Josip Kozarac Elementary School in Slatina built a chatbot that informs visitors of the beauties at the Papuk Nature Park. Mindful crew of the Franjo Krežma Elementary School created a chatbot to help children and youth at their school face mental health issues. 
How did we set the stage for the Innovation Day – the festival of future that was labelled as the best thing you could see that day in Zagreb, Croatian capital?
We got in touch with fast-moving technology companies that have hands-on experience with big things. They have overturned the old ways, done wonders globally, and improved the lives of millions of people. If anyone can help us get a glimpse of what's next and how to build a better future – they can. So having them on site, interacting with students and teachers, was important.
AVL team explained how cars with no drivers move around the hills of Northern Croatia. Electrocoin, the big Central European crypto player was not short of examples of distributed ledger, and disruptions that blockchain could bring in the upcoming decades. LAQO showcased how our understanding and calculation of risk evolves, powered by technology.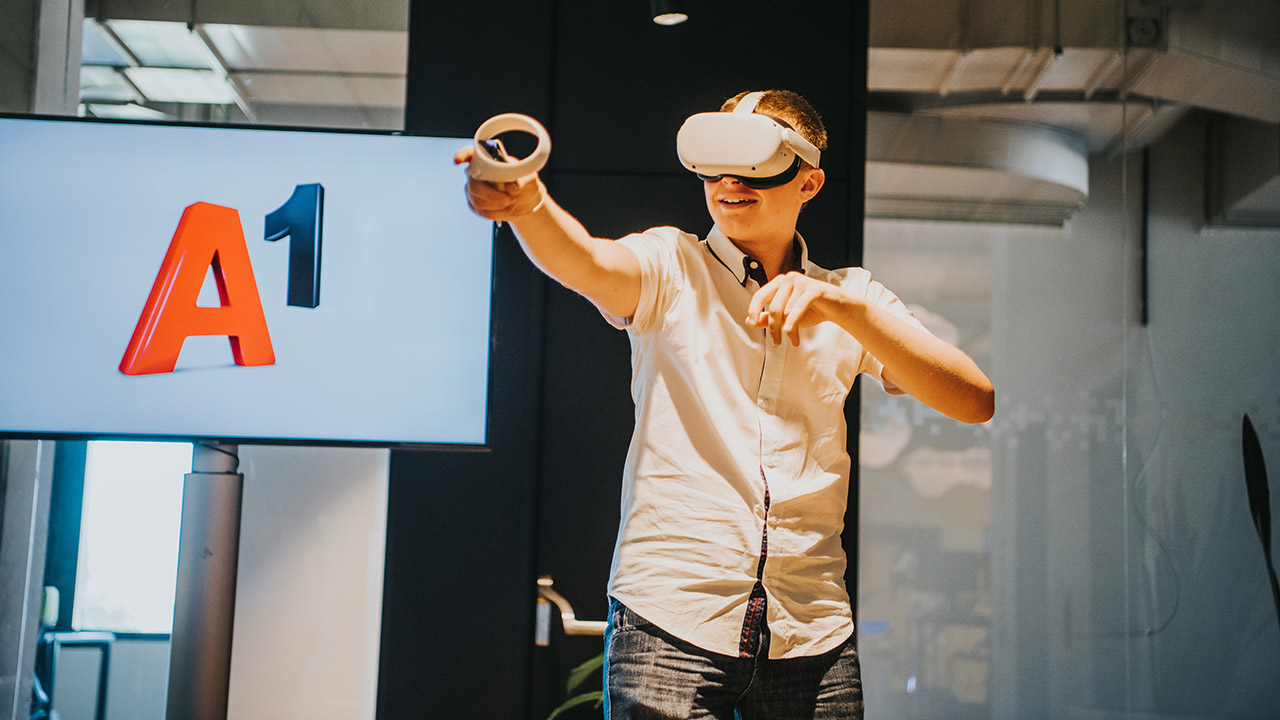 To make sure kids and teens would speak with companies and universities, we created a treasure hunt, a QR-code initiated game played in the augmented reality, with necessary touchpoints at exhibitor spots. To make sure we get the wow effect, we teamed up with our partners from Infobip to host the festival on their tech campus, one of the coolest tech venues in this part of Europe.
We added talks by the leading AI experts, too. The always inspiring Davor Runje, co-founder of airt, has set out to determine if AI could write simple lyrics, if given enough material and time to train itself. When he presented his finding to a room full of teachers and students, comments varied from the fascination with the engineering ingenuity, to concerns over whether we will hand over creativity to machines. He seemed to have appeased the super-concerned, at least for the time being.
Massive thanks to Microblink, Bosch, Školska knjiga, Span, Atos, Microsoft and City of Pula for helping the festival come to life. Be sure to check what's in it for your school, company and organization – we look forward to your participation in the 2023 edition! Get in touch with STEMI consultants to start the conversation.