The 3rd edition of Stemi's Innovation Day (2023) powered by Infobip & A1 Hrvatska was once again a different type of classroom – an event filled with joy, excitement, laughter & unity. A place which brings together teachers, pupils, students, tech companies, entrepreneurs, industry experts and universities. And ultimately, a home to the final event of STEMwave – School of the Future season 22/23 in Croatia.
Stemwave – School of the Future is an educational movement dedicated to bringing 100% free STEM education directly into K6-K12 classrooms, supported by strong partnerships with the prominent industry leaders. During season 22/23, these partnerships supported participation for over 225 schools, around 4000 pupils and 450 teachers. Scaling by almost double since the previous season, STEMwave continued to make a positive impact in education and created life-changing opportunities for many students and teachers all over the country.

Organized at Infobip's 'Alpha Centauri' campus in Zagreb, Innovation Day 2023 hosted around 700 attendees with over 500 of them being pupils and teachers who participated in the STEMwave 22/23 season. It is a unique event primarily focused on students and teachers experience, therefore it is specifically tailored in a way to keep them engaged throughout the whole day, offering hands-on experience and access to the information and products from the tech industry not easily obtainable otherwise.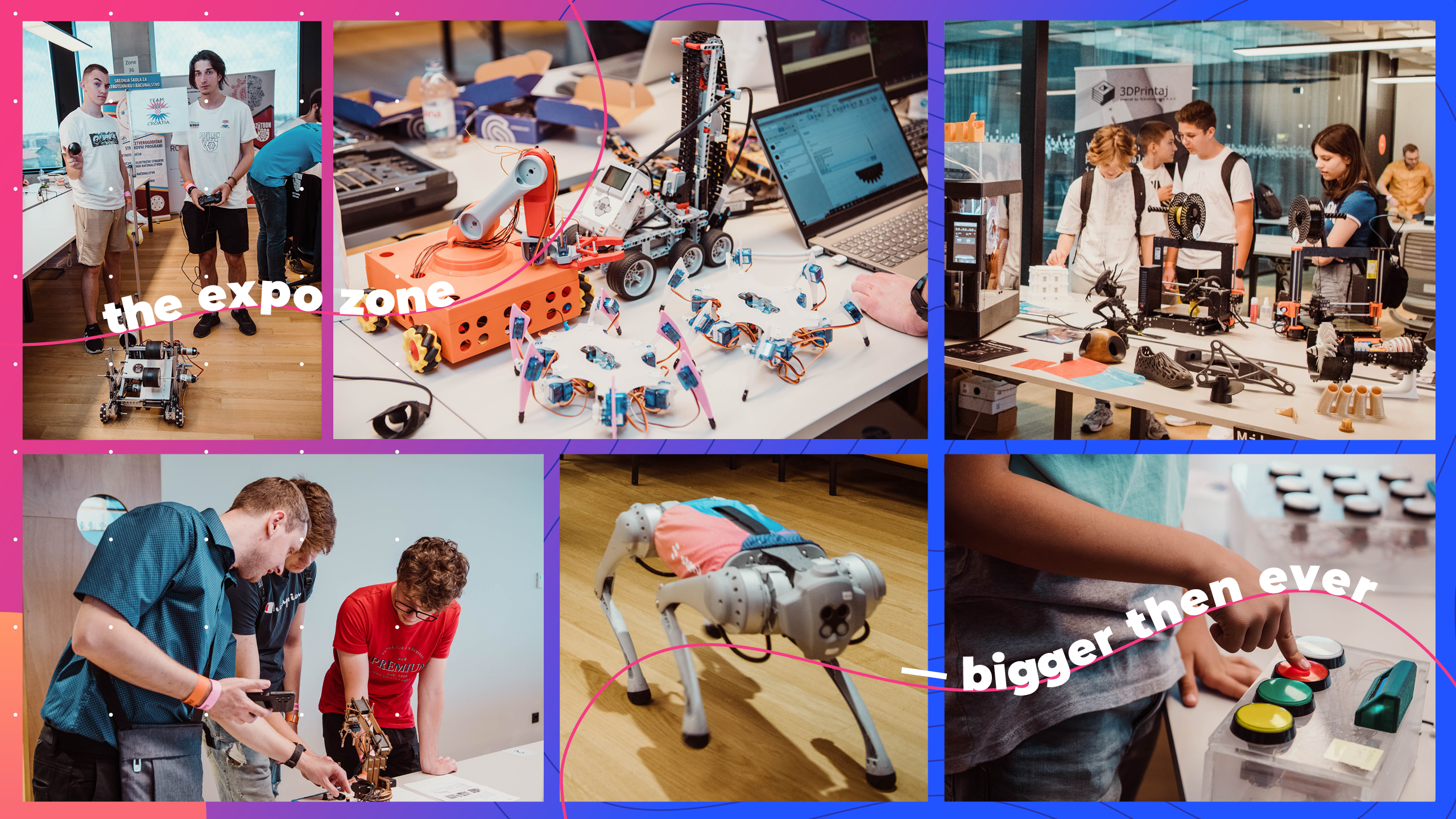 THE EXPO ZONE – bigger than ever
This year the expo zone stretched over 3 floors of the campus and hosted 27 companies, associations, universities & schools which showcased their tech products and accomplishments to the curious attendees who were ready to shower them with questions every step of the way.
While Stemi's 'Stevo' and Xiaomi's 'robotdog' tirelessly entertained everyone throughout the day, pupils had the opportunity to interact with FER and FSB Universities robots, get lost in the optical illusions, dismantle an 'explosive briefcase' before the time runs out on the clock, work with the Pulsar Labs soldering kits, test their motoric abilities and reactions on Sportreact booth, drive & fly in multiple simulators at AVL and A1 booths, play in the VR at Infineon stand, see the AIR-rmld drones in action, test various tech equipment at Belmet97 booth and take 3D printed souvenirs at Mikrotvornica booth.

AR (Augmented Reality) activities were one of the main attractions for many and one could often see students running around with their mobile phones, trying to find AR booths such as Matterless or Equinox to check what is the next experience they will see on their mobile phones.
The schools' part of the expo was quite fascinating too, where we had the opportunity to see and test the products developed by pupils and highschool students from which some of them are going to attend the World Robot Olympiad in Denmark.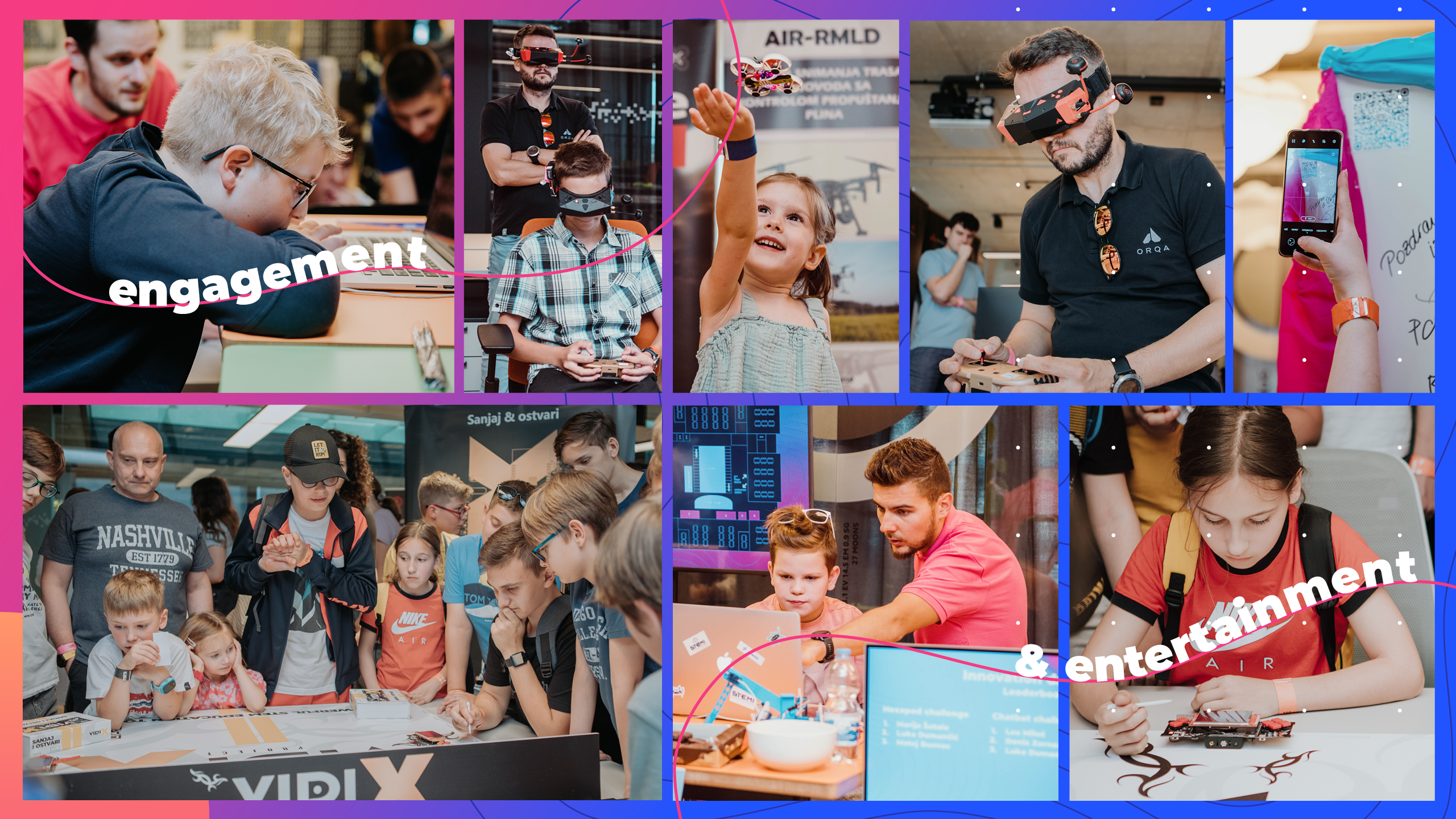 ENGAGEMENT & ENTERTAINMENT

4 contests were held during Innovation Day 2023 from which for the 3 of them attendees could sign for on the spot.
The drones contest at the ORQA booth has been arranged in advance, so the schools have been practicing for a few months before the event and their teams showed us impressive flying skills (we wonder how many of them will be offered test driver internships this summer!).

At the Stemi booth, attendees could participate in 3 Coding Challenges – debugging Hexapod, AI chatbot & some quite tricky hardware tasks.
Despite the challenges being advanced, many students were contesting for the top 3 positions on the leaderboard, so the fastest times in solving these challenges were the main factor which determined who were going to be the winners. Needless to say, most of us were shocked (but not their teachers!) to see a few 10-11 years old pupils taking top positions on the leaderboard, ensuring us that the future is more than bright.
AR Treasure Hunt by Equinox & Stemi was also one of the super entertaining competitions this year. 27 QR codes were placed around the campus, some more hidden than the others and with questions encouraging students to seek answers from the exhibitors in the expo zone. Students with the most correct answers and the fastest completion time took home worthy prizes.
The biggest buzz this year was around the Tic Tac Toe contest. Everyone wanted to know how they could register for it and by the beginning of the contest, VIDI's booth was packed with everyone who attempted to take the throne. What an amazing engagement and entertainment that was!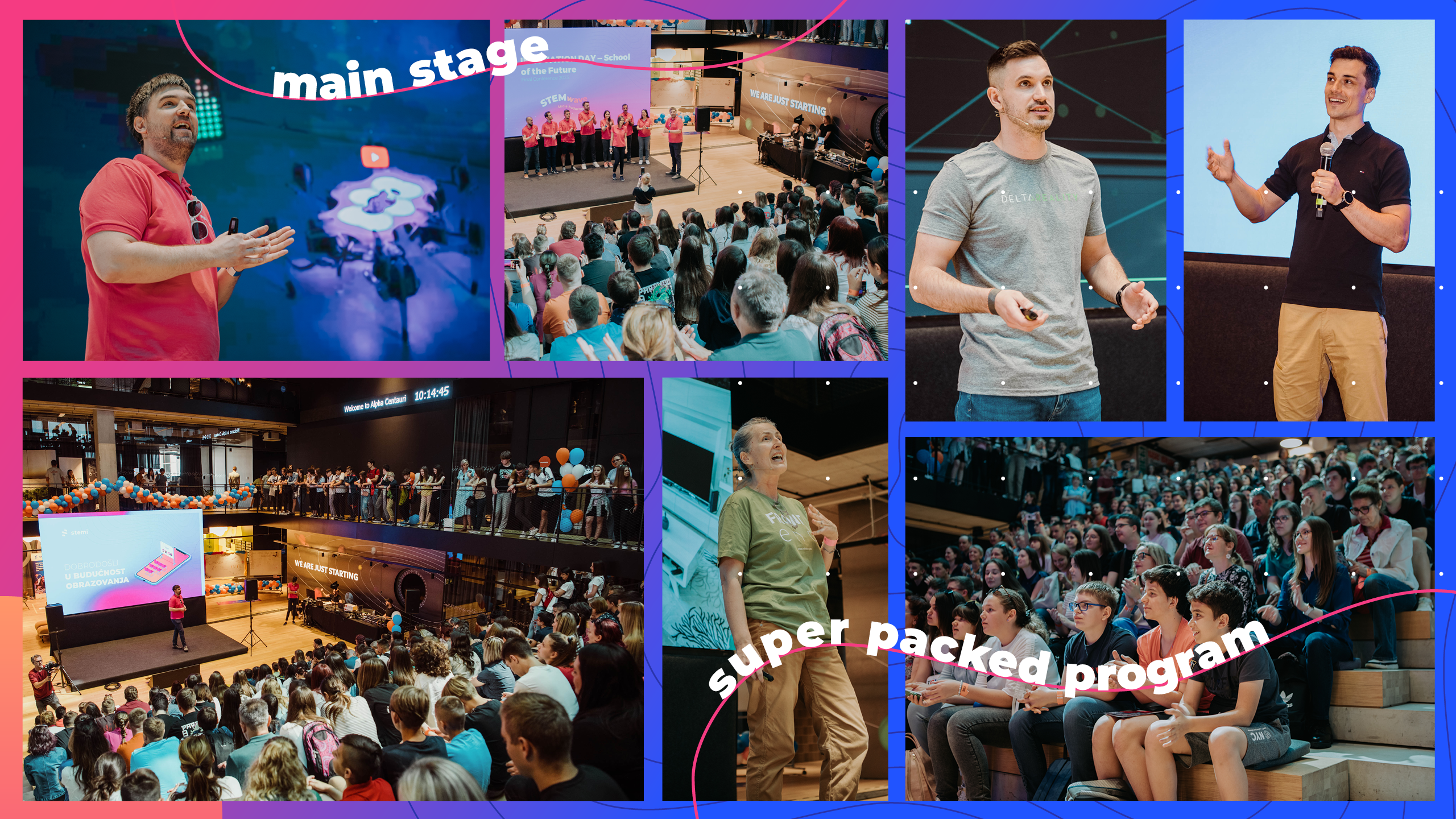 MAIN STAGE – packed program

After the short opening ceremony with Ivan Skender (A1) and Petar Ducic (Infobip), Marin Troselj (Stemi) took the stage to talk about this season's results and what the future holds for the STEMwave project.

We had the opportunity to listen to 3 amazing GOAT (Greatest Of All Tech) talks by the industry experts.
Nika Dvoravic from Daedalic Entertainment talked about what it takes to become a video games designer and to give you a glimpse of how interesting the gaming industry topic is for the pupils, we will just say it was a challenging task to stick to the program time slots from so many interesting questions during the Q&A session.
Mirjana Videnovic Misic held a presentation about the 'Future of Humanity through the eyes of Infineon', one of the leading companies in semiconductors. The amazement on pupils' eyes and even a bit of provocative Q&A questions such as 'How can you make sure the security of certain devices is on spot?' or 'What happens if the electricity goes down?' were a great drive for Mirjana bring out amazing examples and deliver an outstanding presentation.
Lastly, together with Jerko Skoric from Delta Reality, we got lost beyond the limits of reality and listened about the trending topics in the worlds of VR and AR. This was a unique opportunity to hear expert's answers to questions such as 'How long until the AR will be the only reality we know?' or 'When can we expect enhanced body parts that could make us have superpowers going mainstream?'.

After the GOAT talks, it was time for the schools to take the stage.
Students involved in the 7 winning projects held short presentations, guiding us through their rise and their falls during their 6 months long Stemi projects in the fields of Robotics, AI and IoT. Hearing the motivation behind why they did not want to quit even during the most challenging times in the project where nothing seemed to work for them, brought out multiple massive applause from the audience. And it definitely reminded some of us why it is important to stay persistent in life even when things seem intolerably challenging.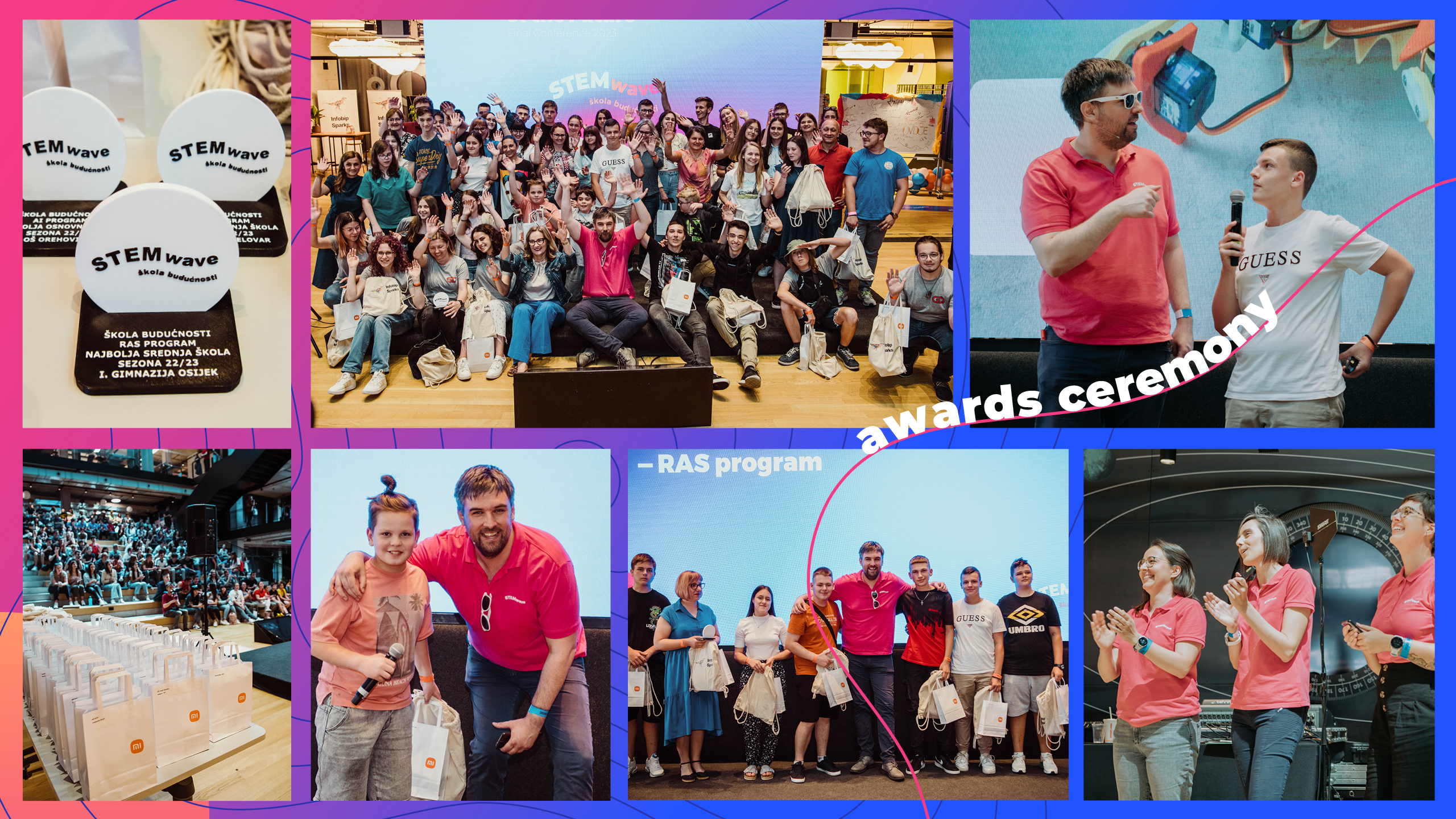 THE AWARDS CEREMONY

Together with Xiaomi Hrvatska, Infobip, ORQA & VIDI.hr, Stemi secured over 80 valuable prizes – from mobile phones, bluetooth headphones, smart watches to drones, controllers, goodie bags etc.
It was finally time to present winners with the awards. The good vibes from students and teachers during the awards ceremony was contagious and those feelings will stay with us who were there for our whole life. There are only a few things in life that could stand shoulder to shoulder with joy, happiness, the sense of purpose and fulfillment of teachers and students, the ones who take care of the young generations and the ones who will continue to run the world. 
Awarded High School projects:
– Gimnazija Metkovic (Robotics and Automated Systems program)
– I.Gimnazija Osijek (Robotics and Automated Systems program)
– Gimnazija Daruvar (Artificial Intelligence program)
– Gimnazija Bjelovar (Internet of Things program)
Awarded Elementary School projects:
– OS Rovisce (Robotics and Automated Systems program)
– OS Orehovica (Artificial Intelligence program)
– OS Josip Kozarac, Soljani (Internet of Things program)
Special accomplishments:
– Leonardo Skrnjug (The best 3D Hexapod design, RAS program)
– Gita Spoljaric (The best written blog, IoT program)
Teacher's awards:
– Jelena Nakic (Marketing Guru category)
– Filip Ramic (Breaking the Stereotypes category)
– Anita Belancic (Bug Bounty Hunter category)
Treasure Hunt, Schools Edition:
– David Gazic, Gimnazija Bjelovar
– Matija Klasic, OS Rovisce
– Ema Podvorec, OS Rovisce
Treasure Hunt, Innovation Day Edition:
– Klara Malcic, I.Gimnazija Osijek
– Ruta Maria Velesanov, I.Gimnazija Osijek
– Josip Menalo, Gimnazija Metkovic
Stemi Coding Challenge, Hexapod Edition:
– Tomislav Kosic
– Leon Zlender
– Toma Nakic
Stemi Coding Challenge, Chatbot Edition:
– Marko Zago
– Vito Vurusic
– Borna Petrovic
Stemi Coding Challenge, IoT Edition:
– Zvan Milisavljevic
– Toma Nakic
– Tin Rostohar
Drone Racing by ORQA, Middle Schools Edition:
– OS Ivane Brlić Mažuranić, Ogulin
– OS Retfala, Osijek
– OS Jabukovac, Zagreb
Drone Racing by ORQA, High Schools Edition:
– Gimnazija Bjelovar
– 12.Gimnazija, Zagreb
– Srednja škola za elektrotehniku i računarstvo Rijeka
Tic Tac Toe Competition by Vidi-X:
– Ivan Pomahac
– David Gazic
– Tamara Vitkovic
– Ronald Podgorski
– Rahela Dukic
– Frane Vugdelija
– Antonio Andric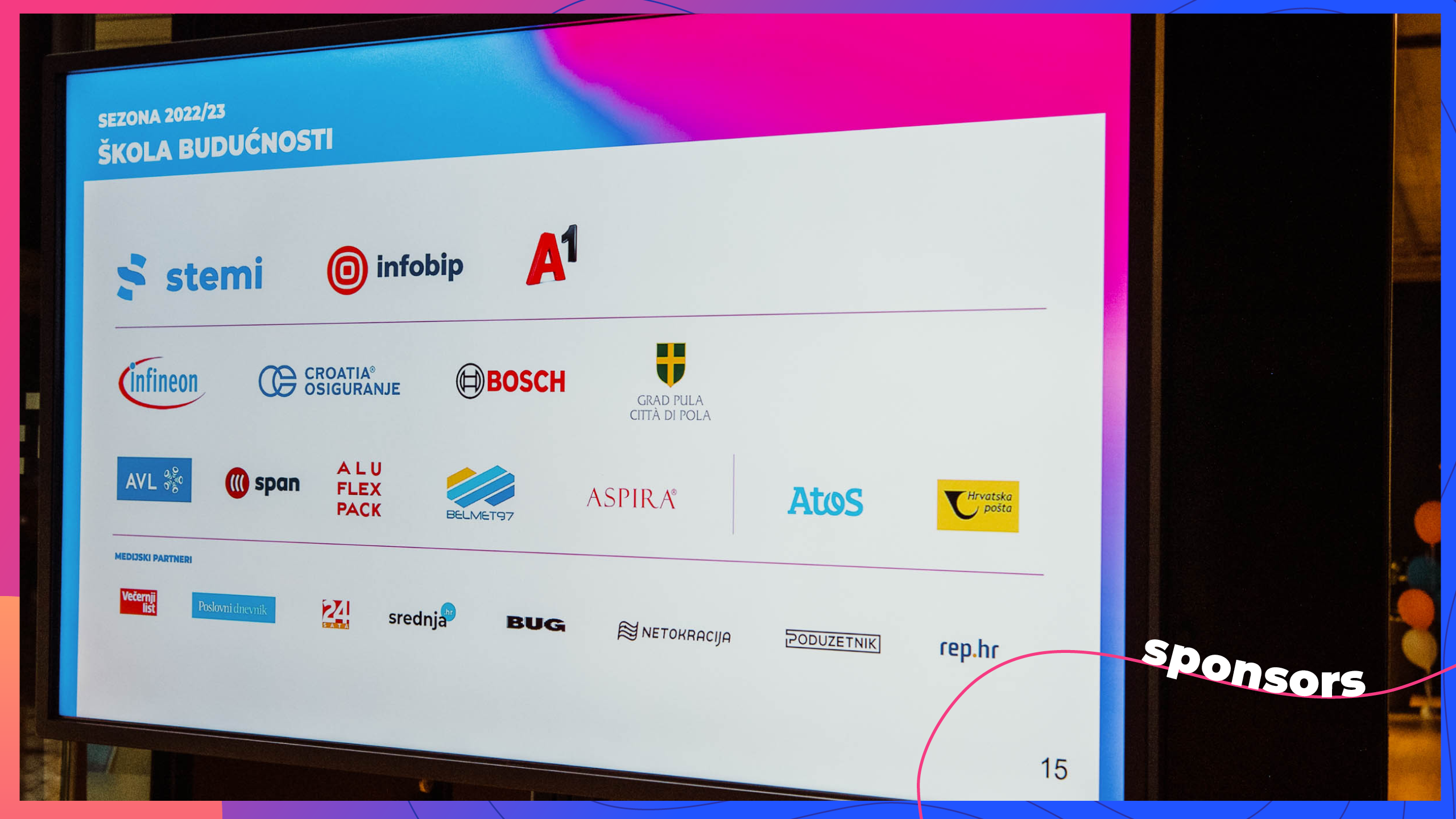 STEMwave partners & supporters

Thank you to all of the partners, enthusiasts, family and friends who support our (a tiny bit cuckoo) journey to impact the education around the world.
It takes just one drop to create the movement. So dare to dream, dare to start the change.