Stemi recently attended the biggest world EdTech event Bett 2023, which took place from March 29th to 31st at the ExCeL Exhibition Centre in London. The event, which is an annual showcase for innovative educational technologies, brought together educators, professionals, and companies from all around the world.
Exhibiting for the 2nd consecutive year, the conference continued to be an incredible opportunity for us to connect with educators and discuss the latest trends in the EdTech industry. We also showcased our most popular curriculums, educational toys and our brand new stemi LAB – deep education experience platform and an international marketplace.
Day 1: Attention, everyone!
Team experience at Bett 2023 was nothing short of amazing. We had visitors from all around the world, including USA, UK, Brazil, Spain, Italy, India, Belgium, The Netherlands, Iceland, Uzbekistan, Poland, Czech Republic, Thailand, even Greenland and many more.
The first day of the conference, we were blown away by the amount of attention, energy, and love around our small booth. People from all over the world wanted to know more about our products and what it is that we do.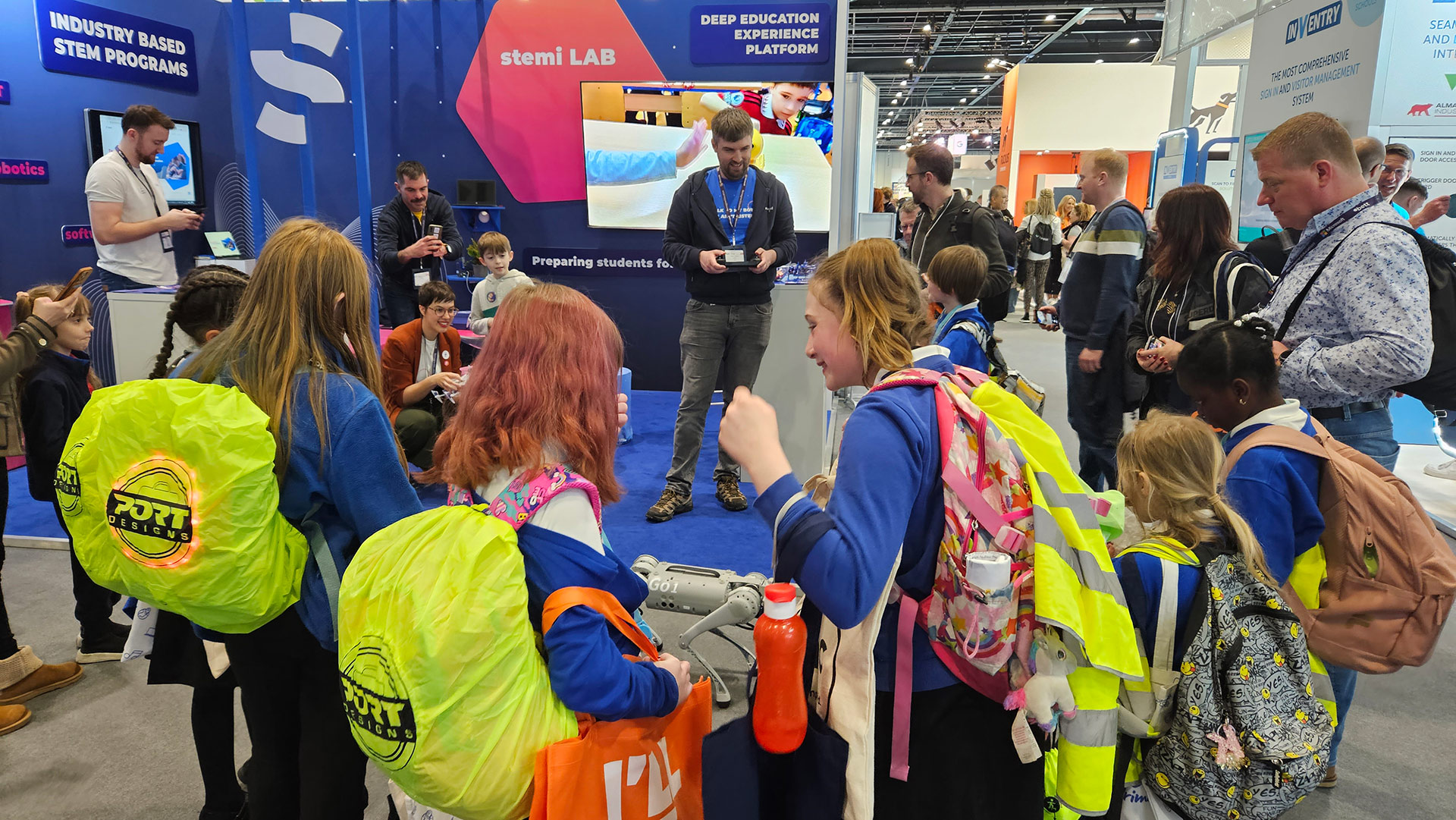 Our partners' (Stokes education) robot was a massive hit. The whole procedure of getting permits to bring it to the UK was totally worth it in the end. We expected it to get the attention of the visitors and attract them to the booth but oh boy, at times we could not turn around from that many people filming and interacting with it.
Once our educational toys caught their eye, the visitors naturally wanted to know more about our company. The Stemi team was delighted to engage with them and showcase other experiences at the booth, including the Orqa drone simulator, IoT program, and our newest product, the stemi LAB international marketplace.
Day 2: Bring more tech into the classrooms
On the second day of the Bett conference, we continued to engage with educators and professionals from around the world. We all agreed that technology needs to be present more in classrooms to make education more native to the pupils, easier and more interactive, and above all useful and fun for kids and teachers.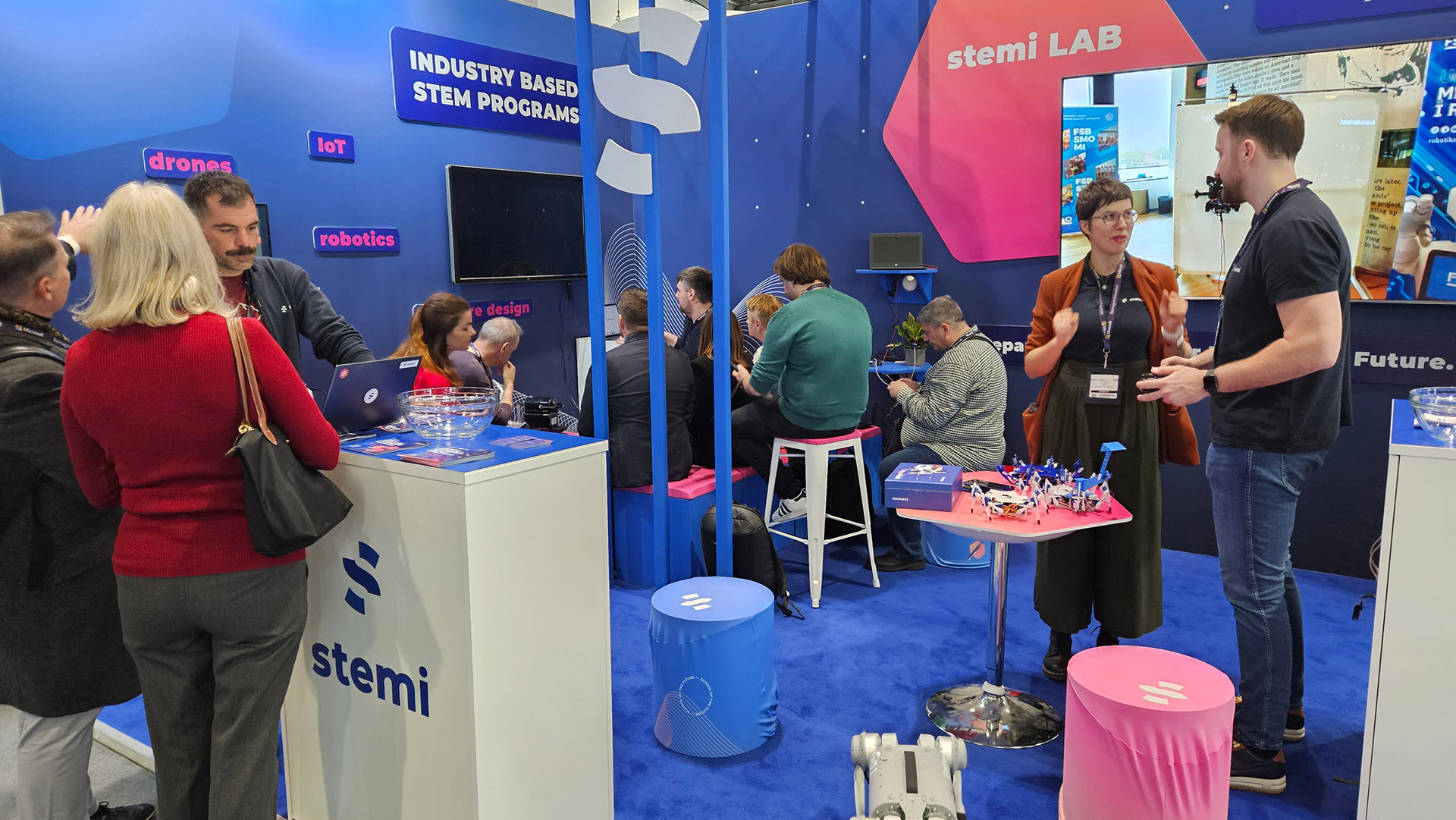 The technology possibilities for classroom implementation are endless, and technology goes amazingly well with all the subjects you can think of, such as history, biology, geography, math, and even physical exercise. We live in a tech world, and at least one mobile phone in our pockets very much proves so. Yet, when we talk to teachers and educators about the current curriculums they use around the world, it really feels like schooling systems are far behind.
That is why our voices were still going strong enough to explain the programs and features available on the stemi LAB platform and why it is the right choice for any middle or high school classroom. We firmly believe that by educating pupils on how to use technology to our advantage, we can make the world a better place.
The final day: Back to Back Kids Judge Bett Award!
Even though the first two days were super packed with good vibes and a lot of interaction, day 3 was definitely the highlight of Bett 2023 for Stemi. In the afternoon hours, when some of our team members finally found some time to go for a walk around the conference, the organizers sneaked into the booth and placed an envelope on the desk. Inside, we found a block of text stating we were the WINNERS and that we need to pick up our Kids Judge Bett Award at the ceremony happening right now on the big event's stage! Oh, the excitement!
We were so thrilled to receive the Kids' Choice award at Bett 2023, and not only because it is for the second year in a row but also because the kids said we were the best amongst so many exhibitors and experiences at the conference.
When the kids love you, you know you are doing something right! This back to back award is an honor and a recognition of our commitment to empowering kids' education and well-being. Kids' education and well-being are our top priorities, and we are humbled to see how much love we get back.
We are grateful for the support we receive, and we remain committed to providing innovative STEM education programs that inspire and empower pupils to learn, create, and innovate.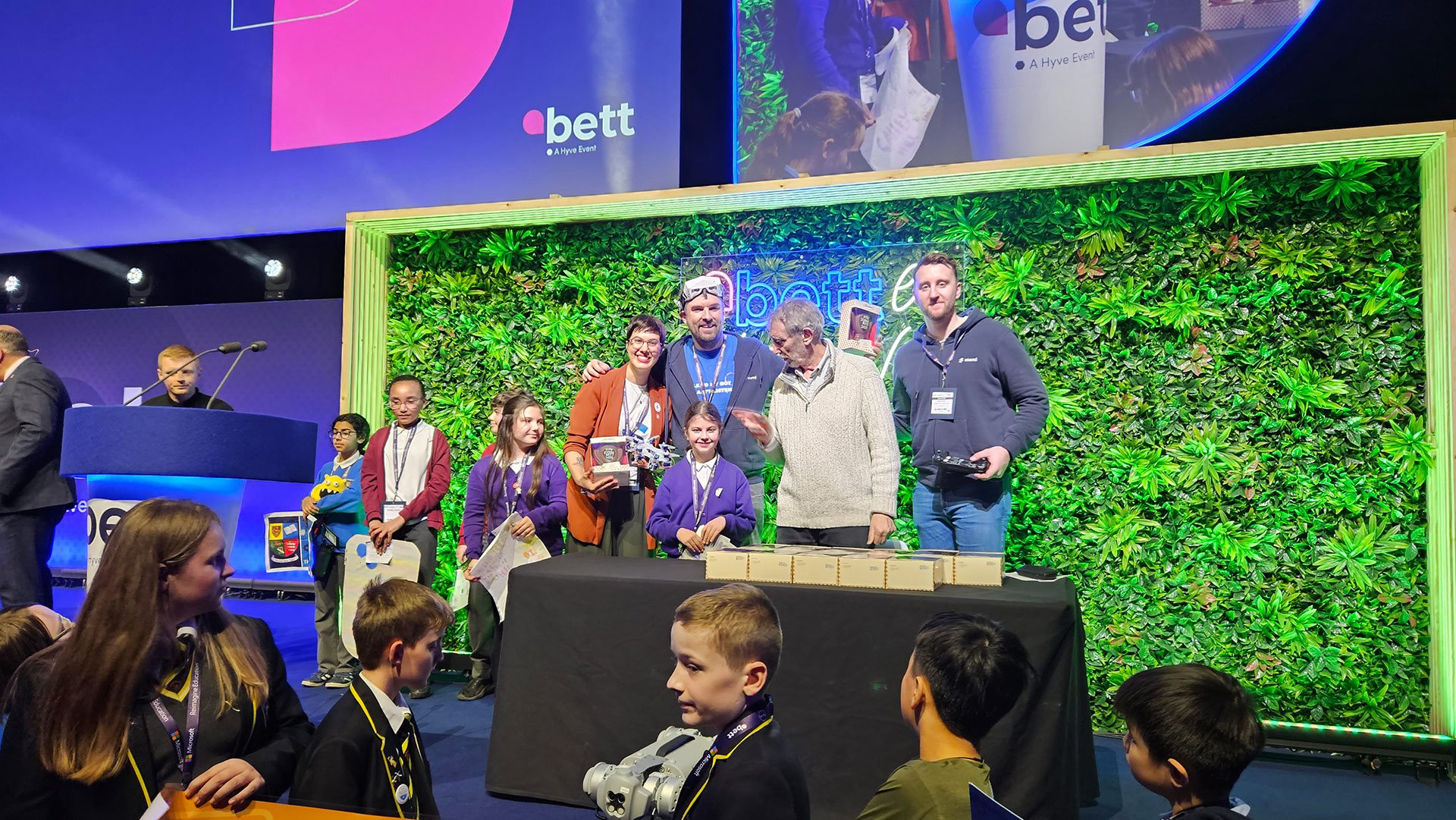 If you didn't get the chance to attend, here is more info on the programs and curriculums we showcased at Bett 2023:
Robotics and Automated Systems (RAS) Curriculum
Being our flagship product, Stemi's Robotics curriculum was definitely one of our most popular talking points at the booth. Multiple versions of the Hexapods roaming around, which are a part of the RAS curriculum, were a big hit at the booth as well.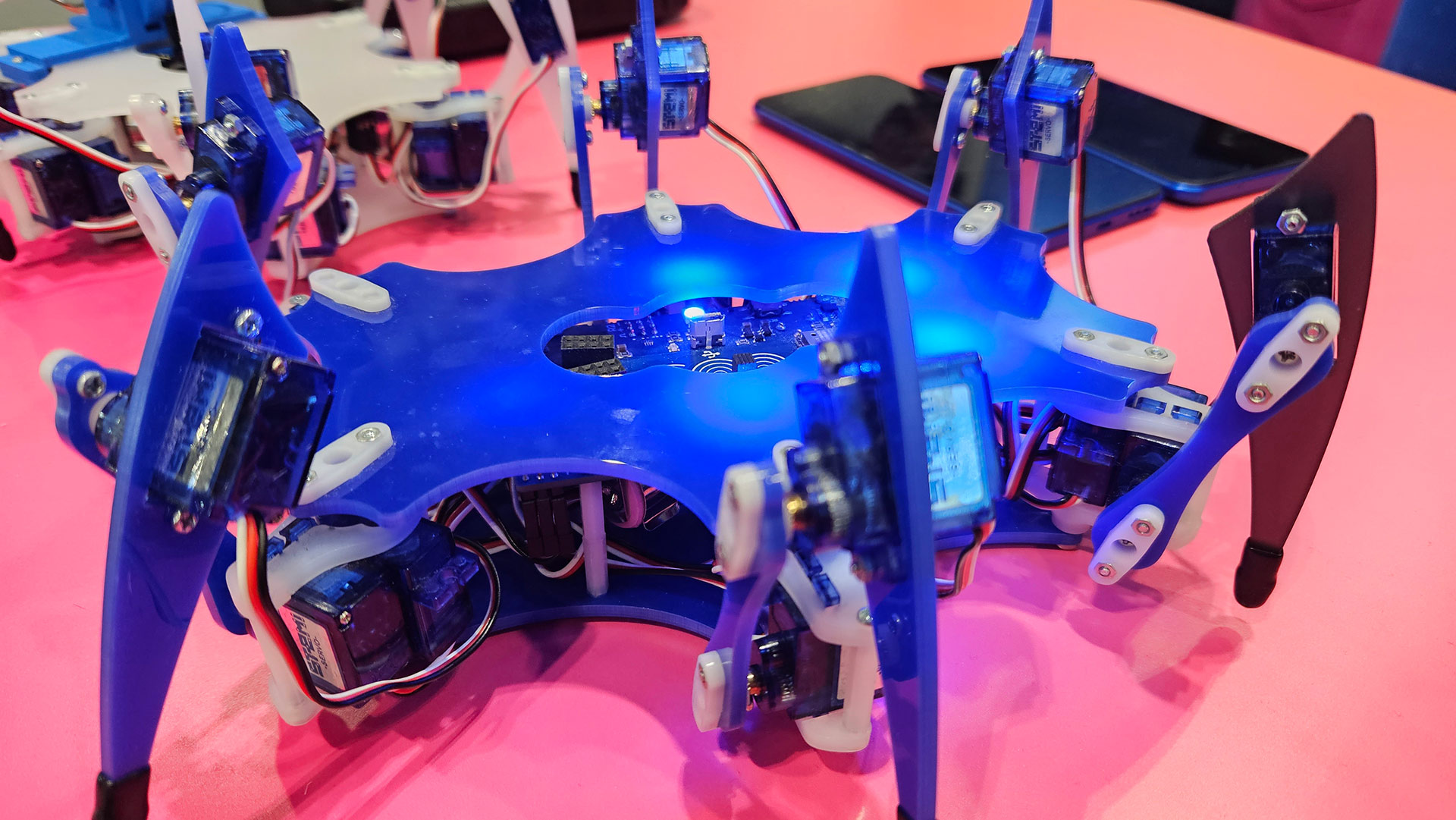 It was incredible to see the amazement on people's faces when they realized our Hexapods are not here only for the show, but learning that students actually make them from scratch in their classrooms through our amazing curriculum.
One of the most heartwarming moment of the whole conference was when our CEO Marin was sitting on the floor with a group of the young students explaining how the Hexapod robot moves and asking them questions such as what do they think how many motors are needed for bio-inspired Hexapod to be able to move. After a fast lesson and big smiles on everyones' faces, the conclusion was it is vital for us humans to observe nature and learn from it to be able to create innovations.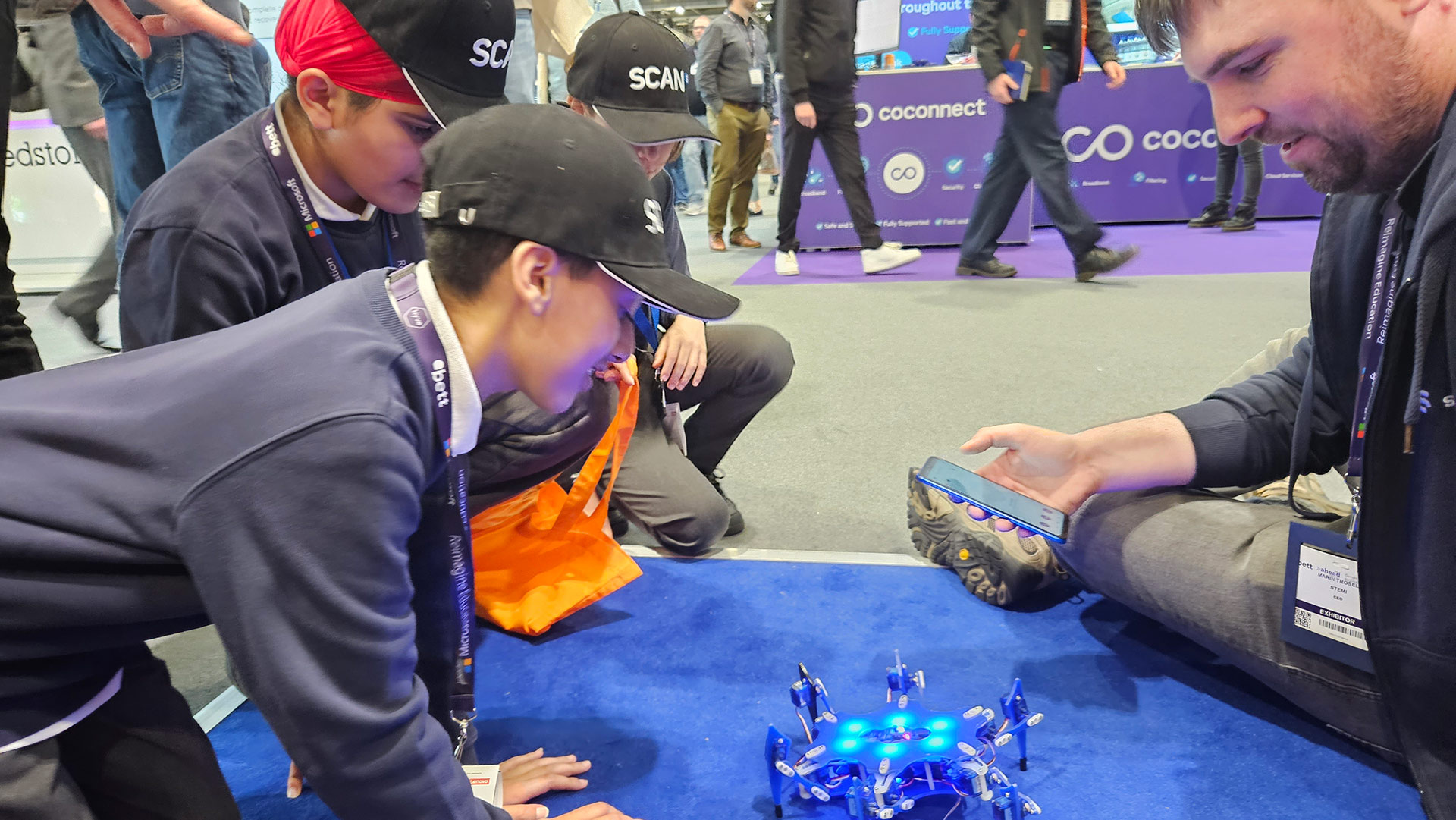 One of our programs that stood out on the show was our Internet of Things (IoT) program which is designed to teach students how to connect with the nature and use technology to monitor and optimize the environment.
Visitors could see the sensors collecting various data from the plant's pot and could hear more about how the data is stored in the cloud and later processed by students to create an optimal environment for the plant growth.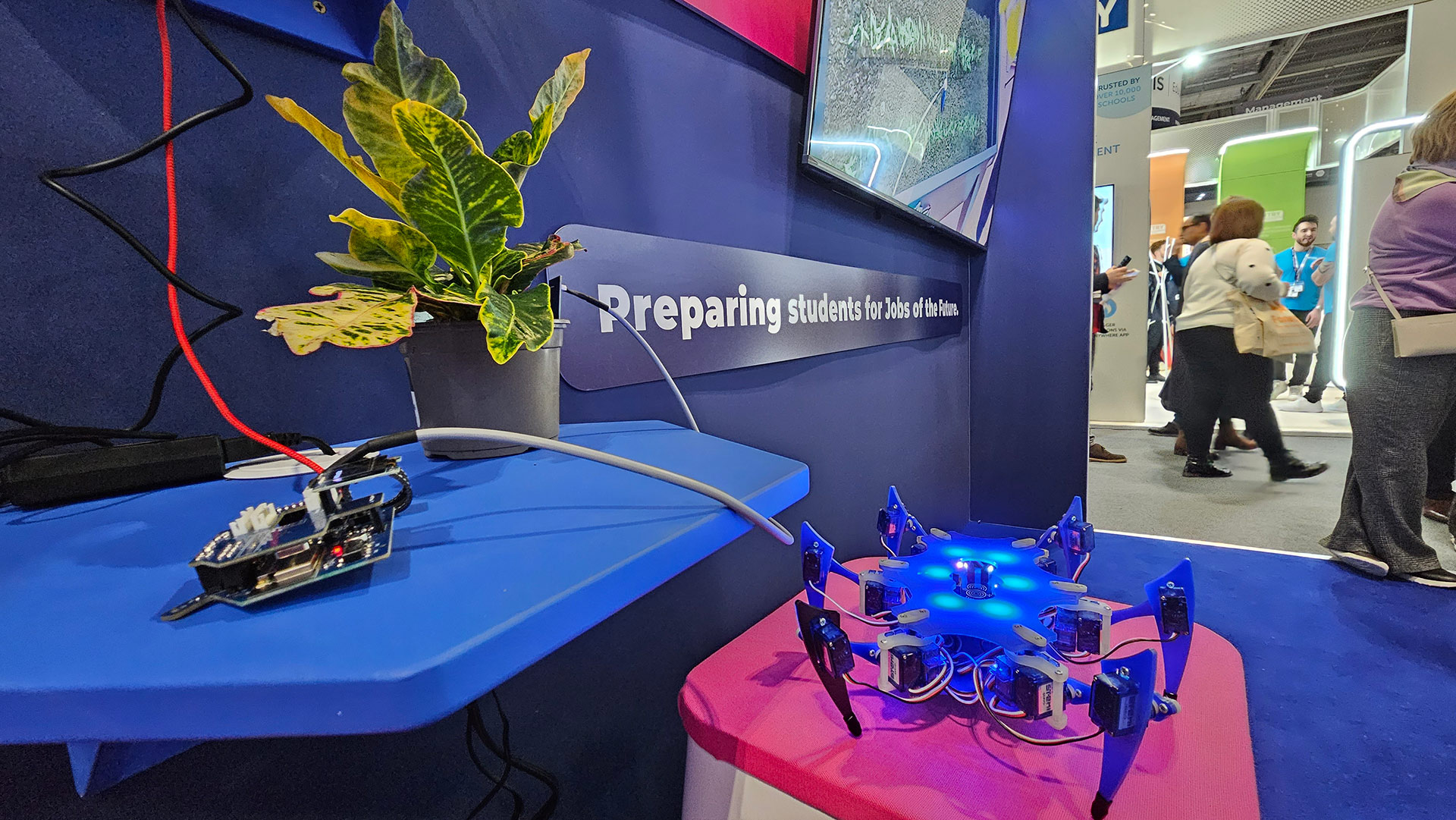 Stemi LAB – deep experience education platform (LXP)
Our purpose is providing thoughtful solutions for current education challenges along with getting the students ready for Jobs of the Future, and the Stemi LAB is an excellent example of this.
It is an innovative online learning experience platform (LXP) that provides cutting-edge STEM education programs for middle and high school students ranging from 10-18 years. To stay aligned with the latest industry trends, most of the curriculums are designed together with the experts from Fortune 500 companies.
Stemi LAB platform offers a range of experiential curriculums that help students learn and develop technical skills, and more importantly, life essential soft skills such as creativity, critical thinking, problem-solving, communication and collaboration. It consists of both, in-house developed curriculums and programs from partner companies Milestone C, Stokes education, etc.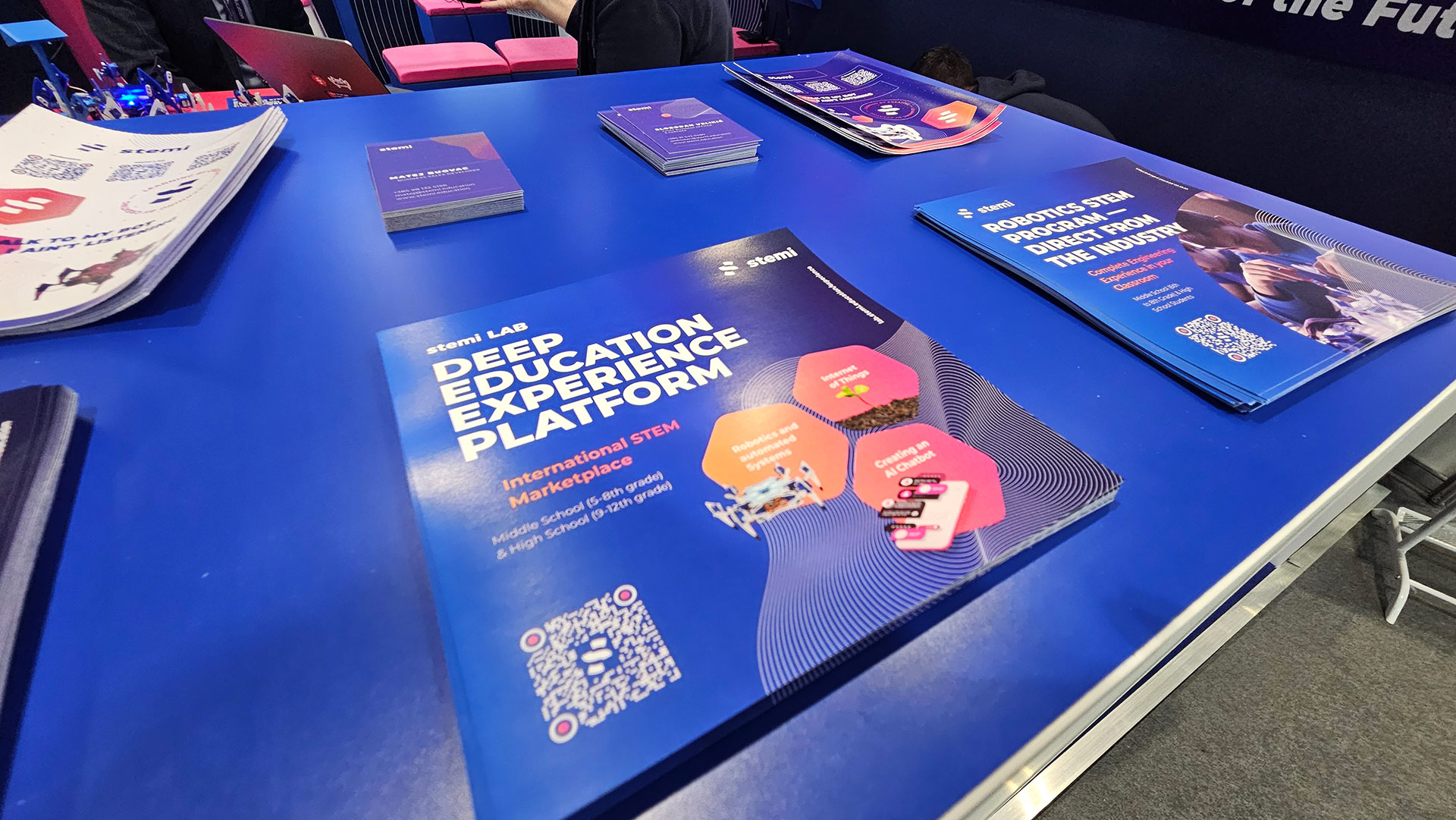 Due to their modularity, schools and teachers can easily integrate our programs into their existing curriculum making it suitable for all classrooms. With separate students' logins and the platform being available 24-7, students can learn at their own pace and on their own schedule.
Additionally, all our programs are tailored to relieve teachers of stress, paperwork and class preparation as much as possible. With our fully prepared materials and in depth teacher's guides, for which teachers do not require prior knowledge and skills, we enable them to save time and spend it more actively with the students individually.
Stemi LAB is designed to provide the same engaging and hands-on learning experience that students get in the classroom. It includes interactive lessons, virtual labs, and simulations, as well as opportunities for collaboration and communication with teachers and other students.
Thank you Bett 2023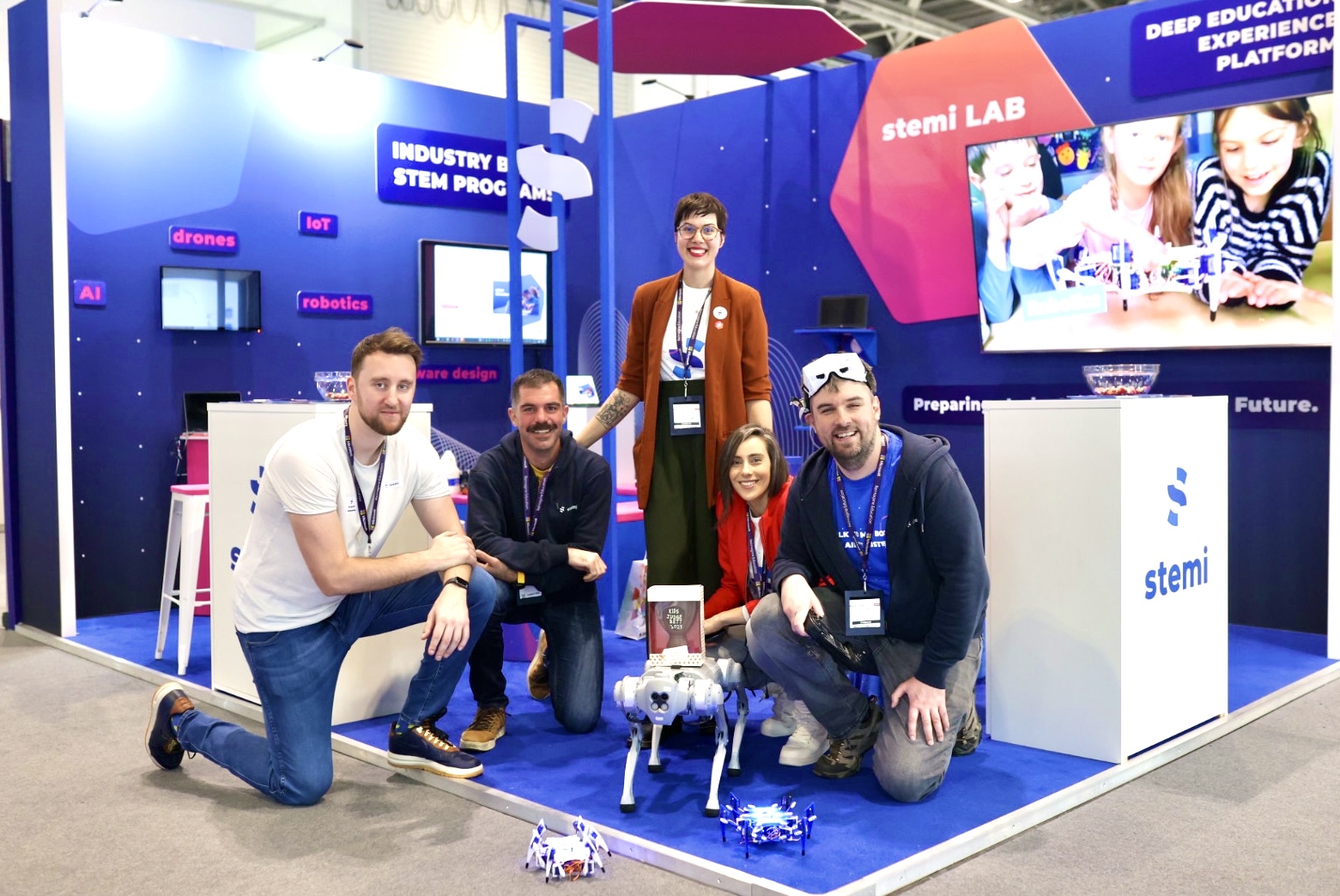 We were thrilled to see the positive response from educators, students, and industry professionals from around the world, and we're looking forward to continuing to prepare students for Jobs of the Future and changing the world, one smile at a time.
Our Stemi team had an amazing experience at Bett 2023, where we had the opportunity to showcase our products. We believe that a new approach in education is essential for the success of today's students and tomorrow's workforce, and we're proud to offer programs that inspire and engage students in one of the most important fields of today.
Thank you to everyone who visited us at Bett 2023 and see you again next year!