Unique Engineering Curriculum Helps Notre Dame High School Enroll More Students
In this highlighted success story, Milestone C and STEMI developed a custom, comprehensive STEM curriculum to engage Notre Dame High School students seeking a true engineering experience. Our Fortune 500 engineers and teachers designed a multi-year, NGSS-mapped program that teaches 21st-century skills and emulates engineering industry practices every day at Notre Dame!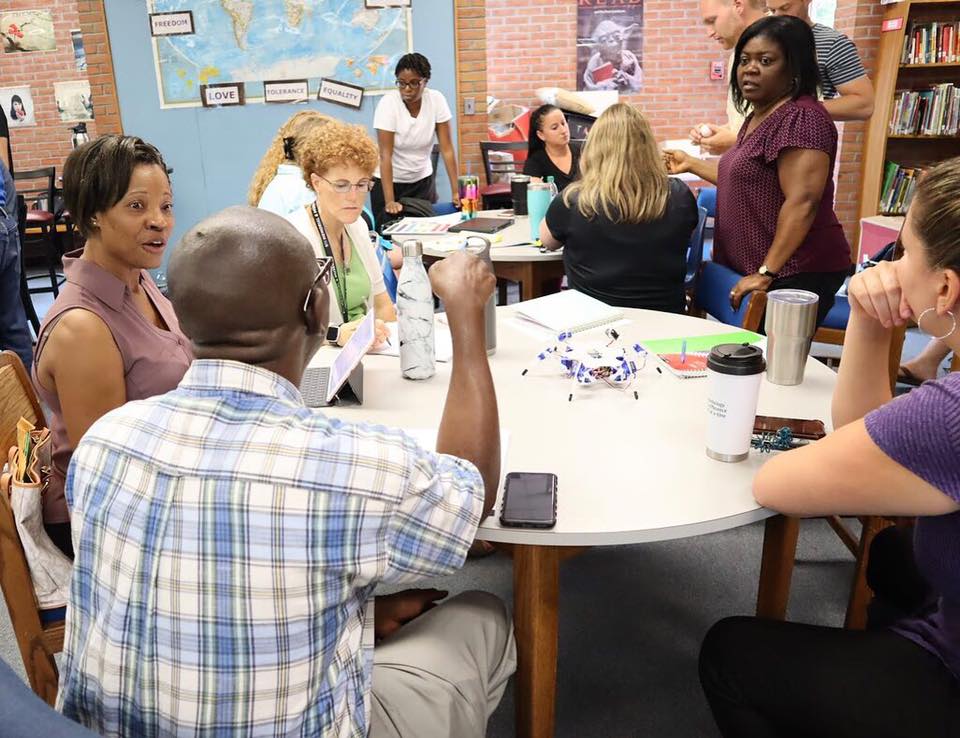 About
Notre Dame High School
Notre Dame High School is a Catholic independent secondary school admitting students of any race, nationality, or religion to all the rights, privileges, programs, and activities generally made available at the school. Its primary purpose is to assist the parents and guardians of its students in the education of their sons by providing a college preparatory curriculum. A Notre Dame education offers a holistic approach that develops integrity, independence, leadership, and values.
Problem
Education Environment Changes Challenge Notre Dame's Ways of Teaching
"We needed to come up with revamped courses and new teaching methods that also included training and support for our teachers."

Katie Saxon
Like in many high schools across the U.S., Notre Dame offered students several required science courses and a senior-year elective for college prep. However, in 2016, Notre Dame did not have a comprehensive STEM curriculum and no engineering courses at all.
"The curriculum we had was outdated and we were teaching it in old-fashioned ways", admits Ms. Katie Saxon, VP for Academic Affairs at Notre Dame. That situation, however, was out of alignment with Notre Dame's core value of making sure that every student is able to pursue academic excellence. Ms. Saxon remembers how the school's leadership felt at the time: "While the education environment was changing from 'sage on the stage' teaching to a more hands-on approach in which students create and teachers facilitate, we watched our science curricula become increasingly outdated and, frankly, boring. We faced the reality of the moment and started looking for solutions that would also exceed our students' and educators' expectations."
Notre Dame realized that they needed their science classes to provide students not only with the knowledge but also with a realistic exposure to the day-to-day life of engineering professionals.
There were mandates from students and parents to change Notre Dame's curriculum and course offerings to better match student interests and career goals. "We knew we had to move our curriculum forward and give our students the opportunity to learn and practice 21st-century skills. We needed to redefine success from what it meant five to twenty-five years ago and make sure our students are successful in five to ten years.
The real challenge, however, was to carve out the resources needed to respond with action. "There was not enough time in our days to write an engineering curriculum. We did not have the expertise to write the kind of comprehensive, cohesive curriculum we envisioned for our students. Decreasing student enrollment and the decreased financial aid rate did not help, either. We accepted that we would have to get smart with the budget we had" said Ms. Saxon.
Solution
An Engaging, Challenging Program Finds Notre Dame
Notre Dame's search for an innovative engineering program began as soon as leadership got on board with the idea, which didn't take long. Ms. Saxon's team researched every option available at the time, including:
Attending training sessions on Next Gen Science Standards (NGSS)
Researching options available from major textbook providers
Researching what the local universities offered
Researching curricula providers available online
"We knew about other companies that produced curricula, but students tend to find their programs either boring or too easy. We needed something that would be engaging for our students, something that would pose a challenge to them", Ms. Saxon told us. She remembers not being happy with any of the available options. She wanted something truly career-connected.
This is when Notre Dame met Milestone C. We connected just as Ms. Saxon's team was running out of viable options for a career-connected engineering program that would help their school stand out among high-end Connecticut high schools, a significant competition.
Developing a Unique Engineering Curriculum
"We had engineers and teachers with expertise in the field writing curriculum and designing activities, course work and assessments that reflected what actually takes place in an engineering setting. That's what I appreciated the most about working with Milestone C."
Ms. Katie Saxon
To give Notre Dame an idea of how we teach and how we design our programs, we suggested that they do an after-school program with us first. This enabled Notre Dame to gather initial feedback from students and parents and to properly evaluate our programs.
Enthusiastic feedback showcased Milestone C's approach to developing STEM curricula was, indeed, groundbreaking, and highly effective. We were exactly what Notre Dame had been searching for: an expert provider of experiential, project-based programs that teach both technical and soft skills necessary for college & early career success in the 21st century.
Notre Dame then launched an official collaboration with Milesotne C to develop a multi-year, custom engineering curriculum that would expand upon the Non-Linear Learning techniques employed in the after-school program. This collaboration resulted in what is today a three-year signature Notre Dame engineering program called T/E/D (Technology/Engineering/Design). Our work was greatly enhanced by Ms. Saxon's clear vision of the program and Notre Dame's unwavering determination to establish an engineering pathway for its students.
Result
A Curriculum Students Love
Milestone C and STEMI are extremely proud to have helped Notre Dame give its students a significant edge with their college applications and early-career pursuits.
"The ability to have a customized curriculum was key. Notre Dame wanted something that was unique to our school, but that could also be modified as necessary to meet the changing needs of our students. The new curriculum not only gave the students opportunities to be engaged in real engineering projects and learning, but it gave the school a program to market, a program that students could only get at Notre Dame", says Ms. Liz Coluccio, today a Science Department Chair at Notre Dame.